Megasealed Central Coast Franchisee, Peter Neilson along with Consultant Geoffery Farrell were recognised for their business success, taking away esteemed awards at 2023 Megasealed National Conference.
Peter Neilson and Geoffery Farrell from Megasealed Central Coast have been recognised for their outstanding contribution to the company at the Megasealed National Conference and Awards Evening held in Scarborough, Perth on March 17th.
Mr Neilson and the Megasealed Central Coast team were the proud winners of the respected 'Accounts Receivable Turnover Award'. Despite the challenges faced in the industry, this award recognises optimum management of accounts receivable, ensuring positive relationships with valued clients and consistent operational excellence.
Whilst not in attendance, Mr Farrell joined in the success, taking out the distinguished 'Consultant of the Year'. The award recognises his exceptional customer service and the consistent rapport he has built with clients and was accepted by Mr Neilson on his behalf.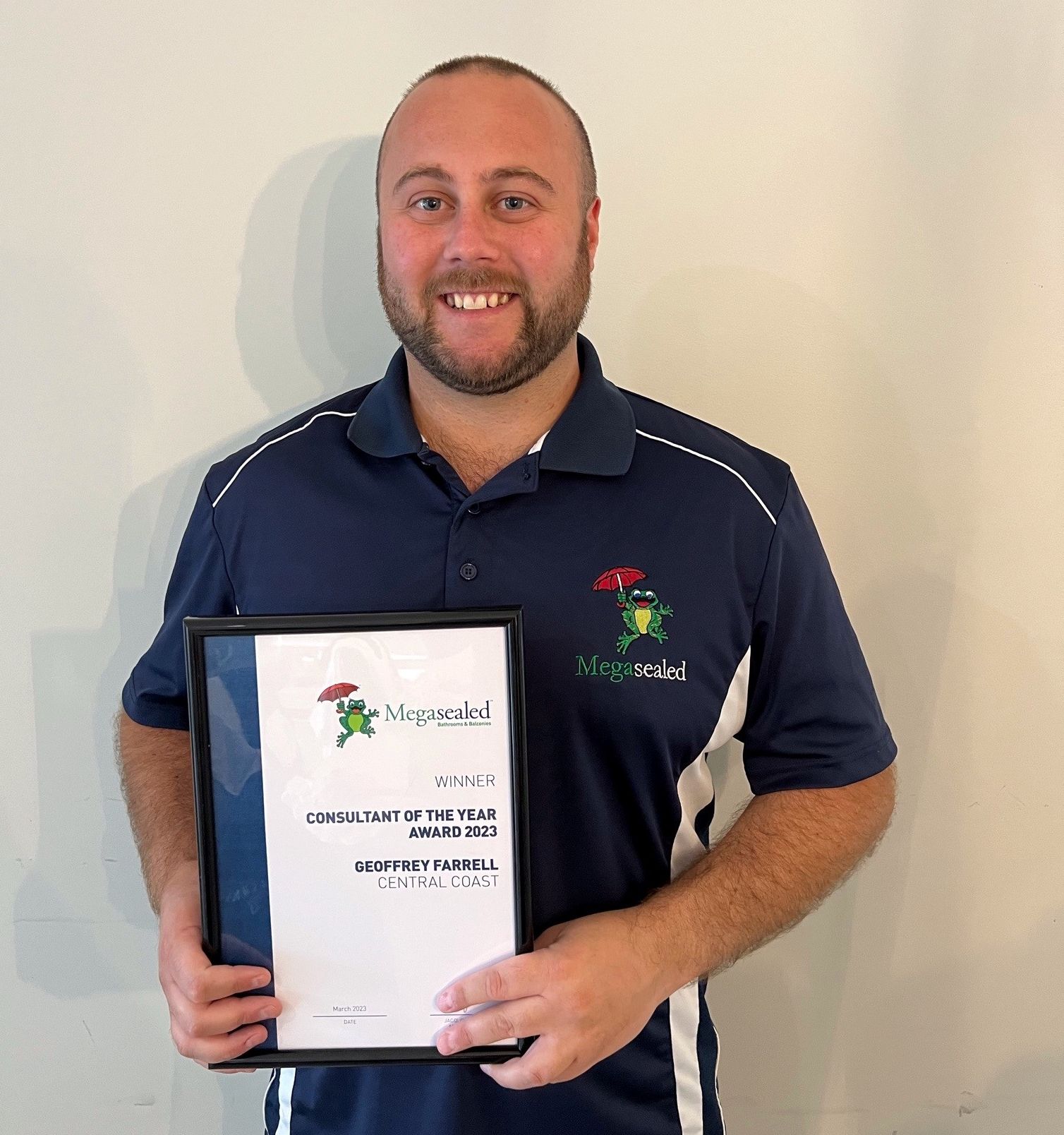 The Megasealed Conference & Awards Gala
The Megasealed Conference and Awards Gala celebrated the impressive achievements of numerous top-performing franchisees from around the country, with seven winners acknowledged across multiple categories including 'Consultant of the Year', 'Tech of the Year' and 'National Sales Performance.' Recognising the need for enhanced business resilience and collaboration in the current business environment, this year's conference theme centred on empowering the network to 'Share the Spirit'. In addition to celebrating the unparalleled growth trajectory of Megasealed and 26 years of making a difference for customers, delegates were immersed in an array of keynote speaker presentations, supplier showcases, team-building exercises, and training workshops. The event also marked a new Corporate Partnership between Megasealed and the National Breast Cancer Foundation to raise vital funds in support of breast cancer research and awareness over the next 12 months with a total of $5,000 raised on the night. In speaking to the importance of connecting with the franchise network in a hands-on setting and discussing what is in the upcoming pipeline for Megasealed, Courtin said:
"This year's Conference represents a significant milestone for the business, after 26 years it is my vision for Megasealed that we collaborate further and take sharing the spirit to the next level by offering our trusted clients and partners new and complementary services."
"In order to continue our business successes, it's important that we take the opportunity for our network to reflect how we can continue to ensure Megasealed's future growth. I believe that what we've achieved so far is just the beginning."
A full list of 2023 conference award winners are detailed below:
2023 Conference Awards Winners
Accounts Receivable Turnover Award – Peter Neilson Megasealed Central Coast
Inventory Turnover Award – Andrea & Warren Akeroyd Megasealed Brisbane Central
National Gross Profit Performance Award – Adam Chauntler Megasealed Mackay
National Sales Performance Award – Andrea & Warren Akeroyd Megasealed Brisbane Central
Excellence in Service Award – Andrea & Warren Akeroyd Megasealed Brisbane Central
Tech of the Year Award – Sukhi Singh Megasealed Adelaide
Consultant of the Year – Geoffery Farrell Megasealed Central Coast
In 2023, Megasealed celebrates 27 years of national franchise operations with 125 franchise territories, servicing 7 Australian states and territories and servicing more than 20,000 jobs per annum.
About Megasealed
Megasealed is an Australian market leader, pioneering unique guaranteed solutions to stop leaking showers and balconies without the unnecessary cost, time, or fuss of removing tiles. Megasealed provides professional services to home and business owners, strata, bodies corporate and facility managers, real estate agents and property managers, aged care and retirement facilities, hospitals, healthcare, builders, plumbers, and government departments. Megasealed is proudly industry-recognised and a current member of the Franchise Council of Australia.
Our standard Megasealed service is quicker, cleaner and more cost-effective than a tiles remove solution.
Industry leaders for over 25 years
One of the first in the business to fix leaks and renew wet areas without removing tiles, we're proud pioneers of this revolutionary process.
Exclusive, premium products
Depending on the most suitable solution for your situation, our Technicians will use our own unique and exclusive products to ensure the highest quality results.
Nation-wide service, local support
We service almost every state, with family-run franchises delivering affordable solutions to local communities across the country.
Get A Free Quote
Let us know your details and one of the Megasealed sales team will be in touch to arrange a quote